Tips For Visiting Our National Parks
One of the biggest benefits of living in Utah is the proximity to a wide variety of national and state parks. The most famous are Utah's Mighty 5, which includes Arches, Bryce, Canyonlands, Capitol Reef, and Zion National Parks. Many visitors flock to these parks all year round, but summertime seems to be the busiest. Here are some tips for the best trip possible if you decide to battle the crowds this summer.
National Parks Pass
Entry fees range between $15 - $30 at most national parks and recreation areas, so if you are planning to visit more than one during a calendar year, purchasing an annual parks pass is your best bargain. At $80 for a year, you have unlimited access to this country's most beautiful parks and recreation areas. Discounted passes are offered for seniors and free passes are offered for veterans. If you have a 4th grade child in your household, you're in luck! You can sign up for a FREE annual pass through the Every Kid in a Park program. Your child just needs to full out a simple questionnaire and you print out a pass on your home printer to bring to the parks.
Planning Your Visit
The summer months are the busiest times for our nation's national parks. Families use this time out of school to play in nature and this causes long lines and full campgrounds. Most campgrounds within the parks are first come first serve, with some exceptions and many are full as early as 11am. If you use Twitter, following the accounts for individual parks help since many give updates on road conditions, campsite availability, and entry lines through tweets. This also allows you to gauge how early you might want to plan your visit. Just look at the line for entry into Grand Canyon at 10:35am.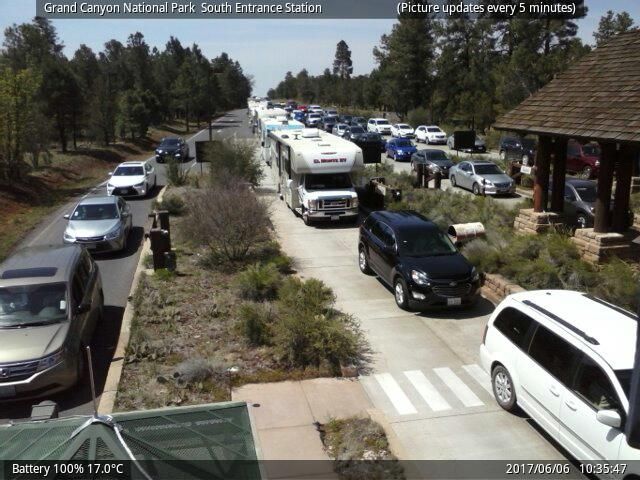 Hats, Sunscreen, and Water
Don't kid yourself. Even if you are just doing a leisurely drive though one of the parks, you will need to plan for some essentials. Sun protection is crucial if you are doing any hikes this summer. Keeping the sun off your head and face will keep you cooler. Don't forget to protect your eyes as well with UV protecting sunglasses. Most parks now offer free water filling stations at restrooms and visitor centers. Bring your own water bottle or hydration pack filled with ice and add water throughout the day for a nice cool drink. Pre drink a liter of water before a long hike and then you won't get as thirsty as quickly. Aim for about a liter of water for every hour of summer hiking.
Resources
These are a few websites that will help with planning your trip.
Did we miss something? Have more tips to share? We would love to hear from you!
* Arches picture courtesy of visitutah.com