The Trader Joe's Essentials- Spring Edition
It's no secret that we love Trader Joe's! We've shared our general Trader Joe's Essentials, and the Fall Trader Joe's Essentials, so here we are with the Spring Edition!
Every season Trader Joe's has a not so subtle theme. In the winter you'll find peppermint flavored everything, the summer stock with be full of mango themed items, and right now I am seeing coffee themed products everywhere! I am guilty of following quite a few Trader Joe's themed blogs, and when they announced a new line of coffee themed items I ran to my nearest TJ's. My personal favorites were the Coffee Cocoa Batons and Coffee Glazed Almonds.
The Coffee Cocoa Batons were made to be dipped in coffee! (Or ice cream) The thin and crispy rolled wafer softens and the coffee and chocolate cream filling melts right in your mouth. Get these to share with a friend because they sure are addicting!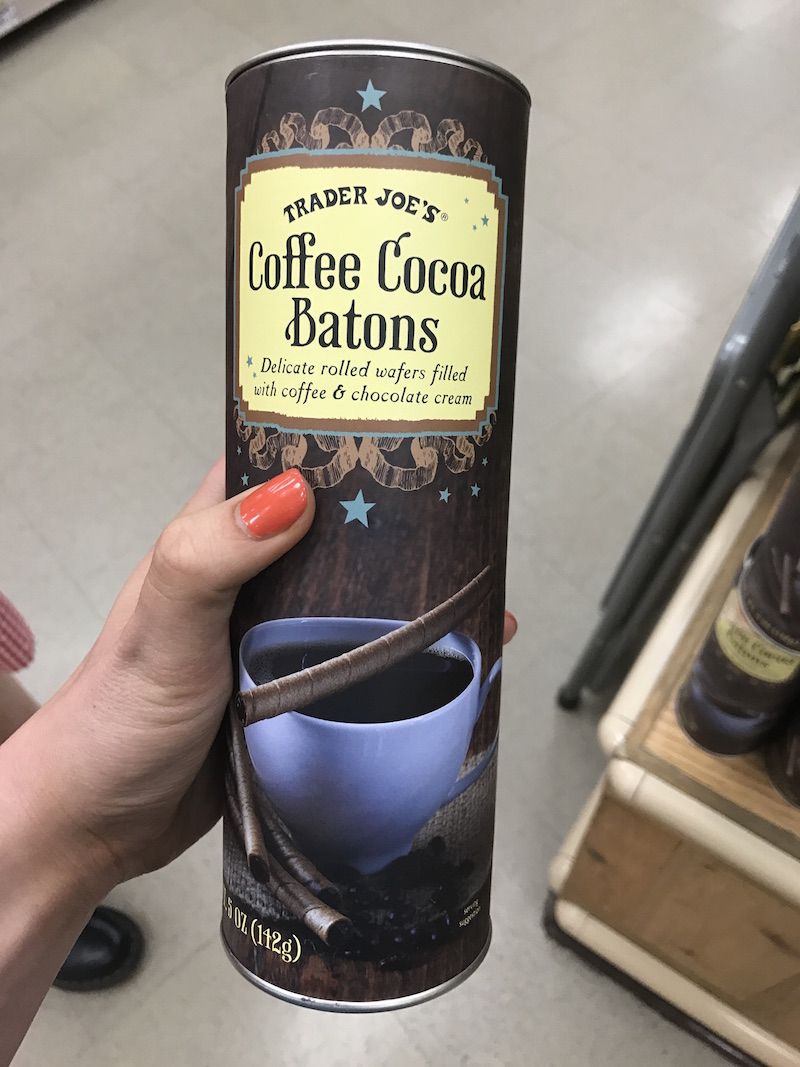 I will always be in the moods for some almonds. Whether they're covered in chili powder, salt, or chocolate, count me in! But have you ever had coffee glazed almonds? I hadn't! Coffee and almonds are a match made in heaven, and these are proof. I couldn't recommend this crunchy snack more!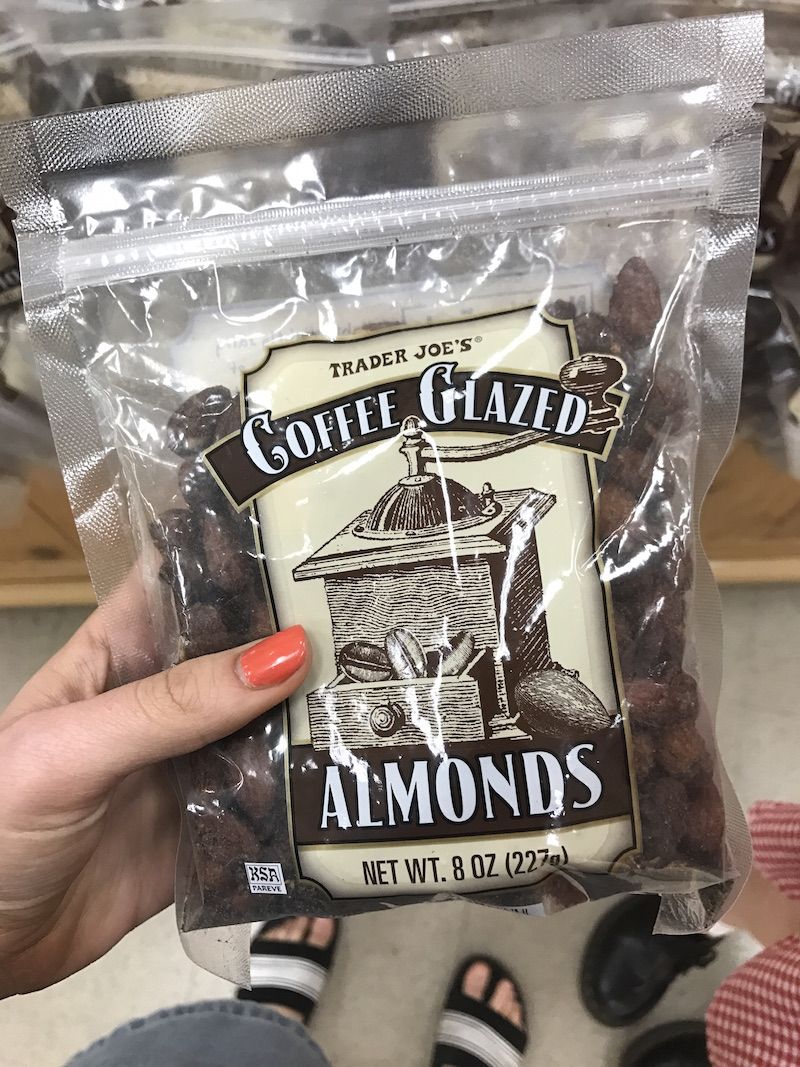 Here's a refreshing recipe you should carry into Summer! This low-calorie lemonade is perfectly sweet and tart without being too sugary. Pair it with your favorite iced tea and Trader Joe's sparkling water for a sweet treat that's healthy and refreshing!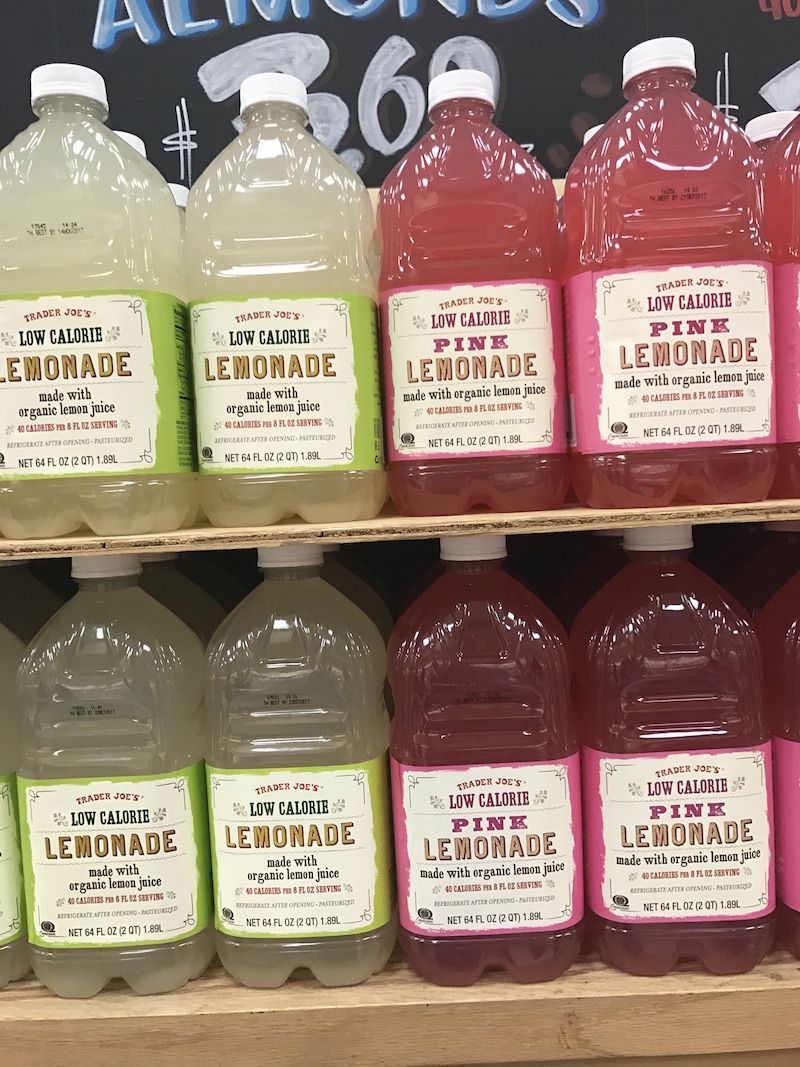 Spring is the time for all my favorite fruits and vegetables to be enjoyed. Asparagus, cherries, corn, oranges, mushrooms and green beans to name a few. Trader Joe's is the only place I shop produce! Not only do they have everything you could imagine, but it's affordable and you always have options between regular and organic. I have never been disappointed by Trader Joe's fresh products! Here's a list of fruits and veggies in season from the Blendtec blog.

I usually have a "no canned produce" rule. It kind of grosses me out, and will never taste as good as the fresh product! But truth be told, I love Trader Joe's canned pears and peaches! Trader Joe is the only person I would trust to can my favorite fruit, so I decided to give these a try and did not regret it. They taste very fresh and flavorful!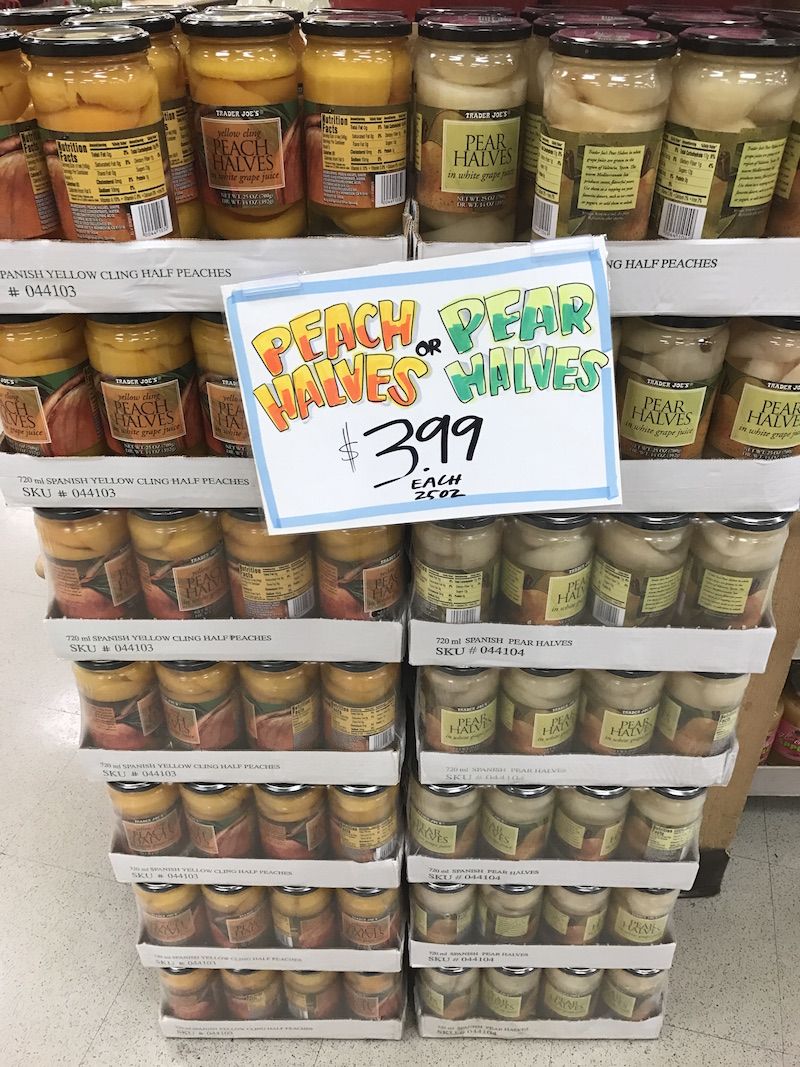 If you're a bit lazy like I am, I'd highly recommend checking out this pre-cut asparagus, mushroom, onion mix. Three veggies that are perfectly in season for Spring, that you don't even have to cut! Simply toss them in olive oil, your favorite seasoning, and sauté, grill or bake. I personally think that cooking stovetop or grilling will taste the best, but if you want to bake it, 30 minutes at 350 degrees should do the trick!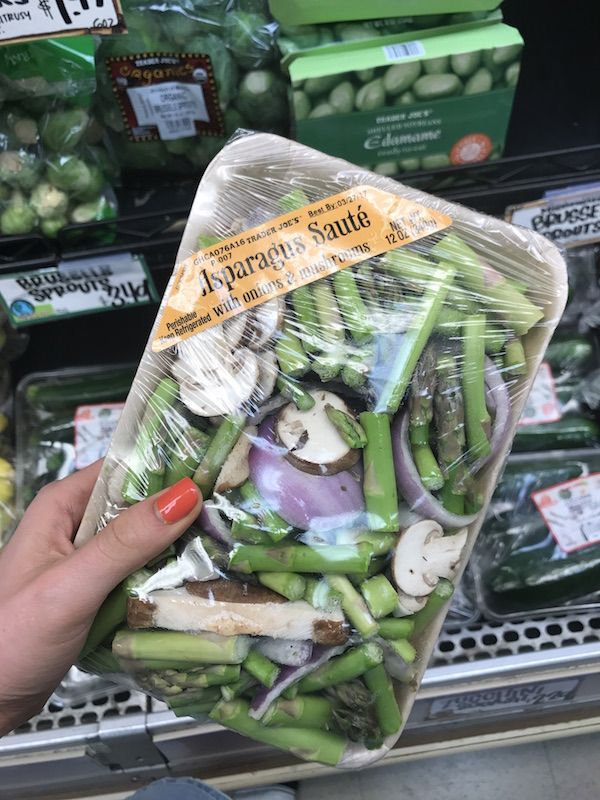 Here's another lazy hack to get your veggie intake in. These zig-zag cut butternut squash pieces are my favorite! I'm not the biggest fan of squash, but when I drizzle these guys in olive oil and drench them in my favorite seasoning, then cook them for 45 minutes at 400 degrees, they taste just like french fries!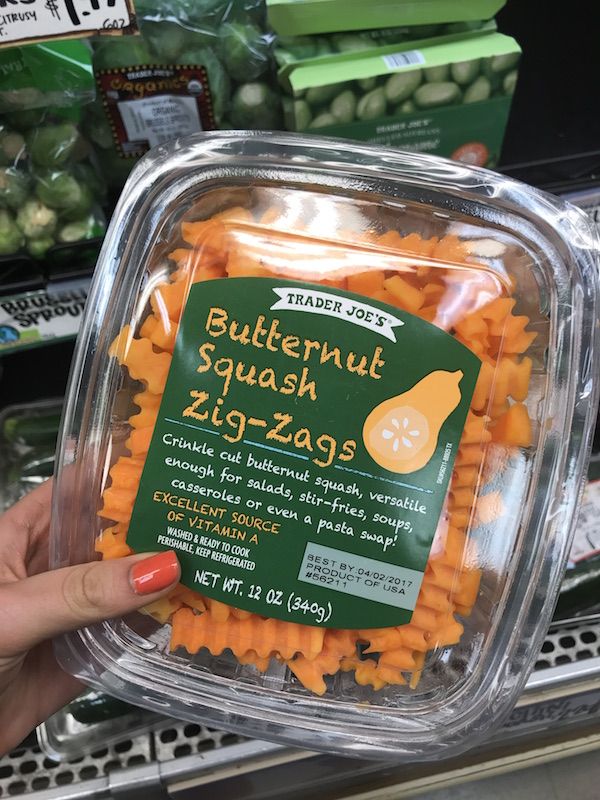 Speaking of seasoning, Trader Joe's has a new seasoning line that will actually change your life! These convenient little guys are chalk full of flavor that tastes good with almost anything. My personal favorite is the Garlic Salt and Everyday Seasoning. Throw on your scrambled eggs, meats, salad dressing, vegetables, and more!
For the most simple, but delicious salad in your life, I use the Everyday Seasoning. Take your favorite blend of lettuce and add in chopped peppers, cucumber, tomatoes, etc. Lightly coat with olive oil and red wine vinegar. Then toss with a Everyday Seasoning and your favorite cheese! Keep scrolling to see the cheese I use. It's so flavorful and light, perfect on the side with any meal.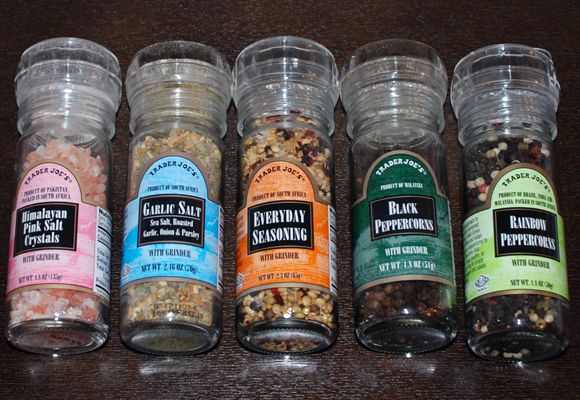 Photo from Gluten Free with Wendi
Remember when I said I'd tell you about my favorite cheese? I sampled this one a couple weeks and fell in love. It's slightly robust with nutty hues and parmesan and cheddar flavors. It's not too strong, so even your pickiest eaters should like it! This taste amazing graded on your light salad, pastas, breads, and cheese boards!
If you're looking for an easy treat to bring to a party, or a yummy pastry to enjoy with your morning coffee, I love this cranberry orange bread! It's soft and moist, and tastes totally homemade.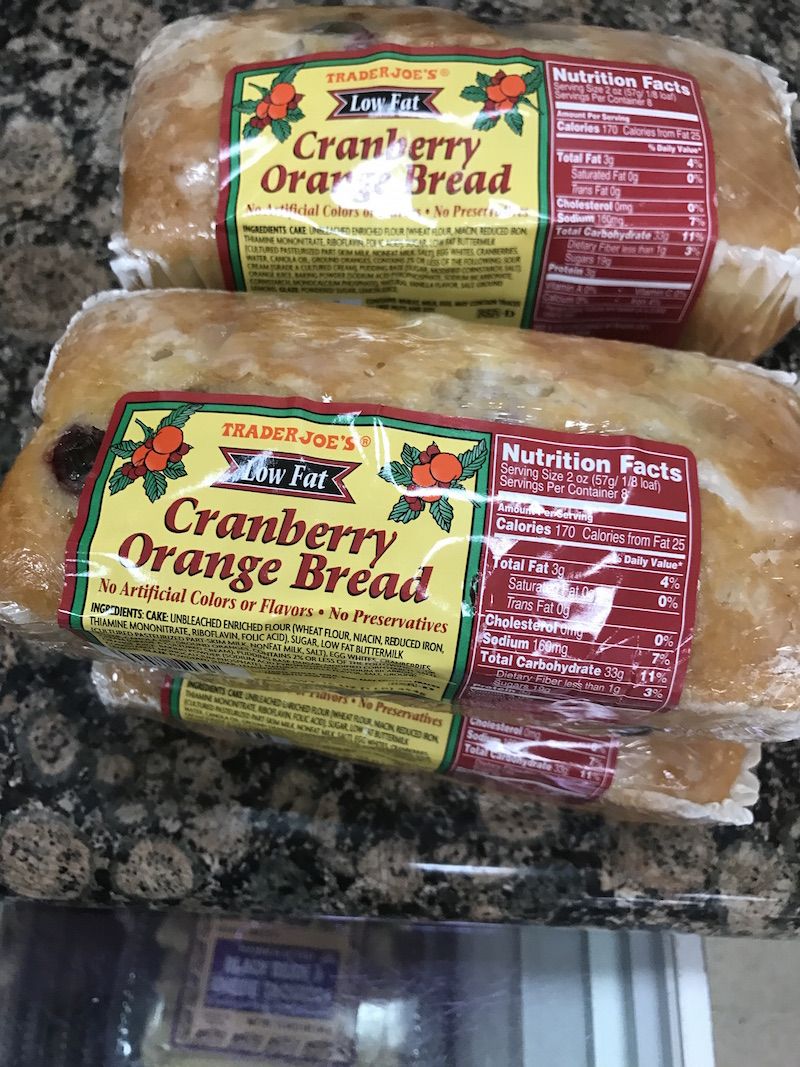 These aren't Spring themed at all, but I just tried them for the first time last week and love them so much I want to shout from the rooftop! The peanut butter filled pretzel is essentially a perfect snack. Sweet and salty and with a perfect crunch! But when you dip them in chocolate, it's a total game changer! Think of a Reeses Peanut Butter Cup but with salty pretzel pieces.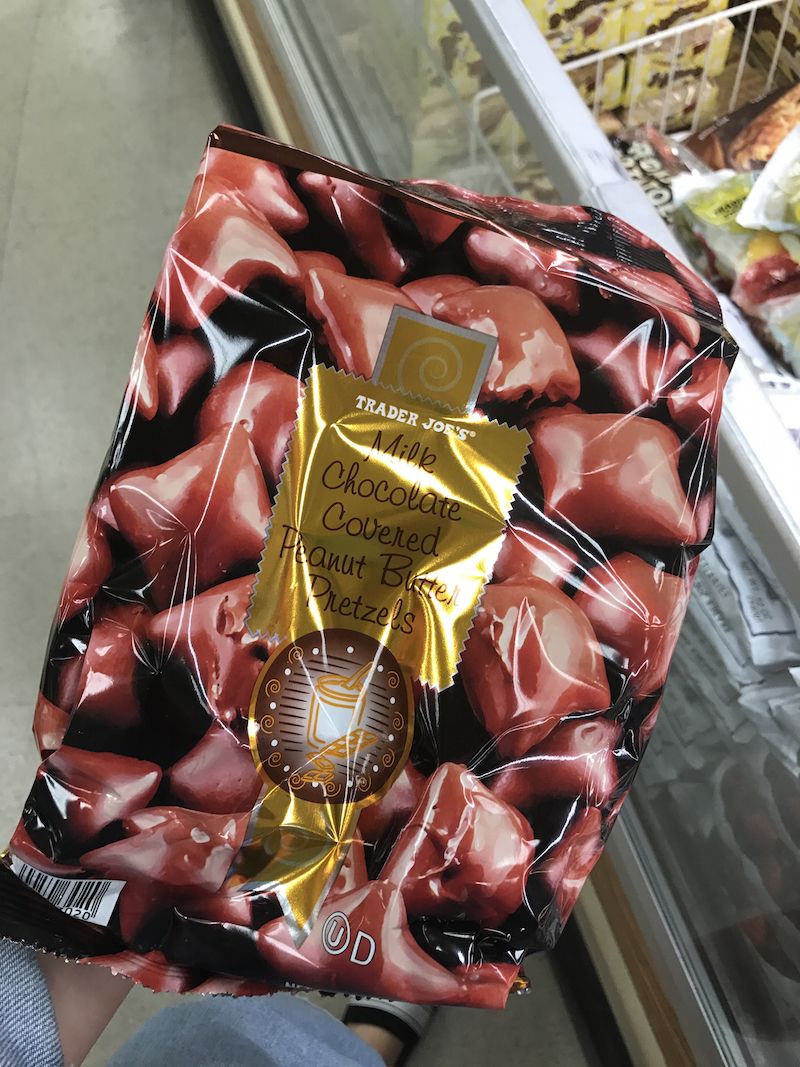 Last but not least, the flowers! As everything blooms around you, the urge to fill your homes with flowers is stronger than ever. Trader Joe's is by far, the cheapest place to get flowers! They always have a variety to choose from and a bouquet is always under $10! Fill your countertops, desk spaces, and offices with flowers! Give to a friend who is sick or sad, or just to remind them you love them. You can't go wrong with some fresh florals!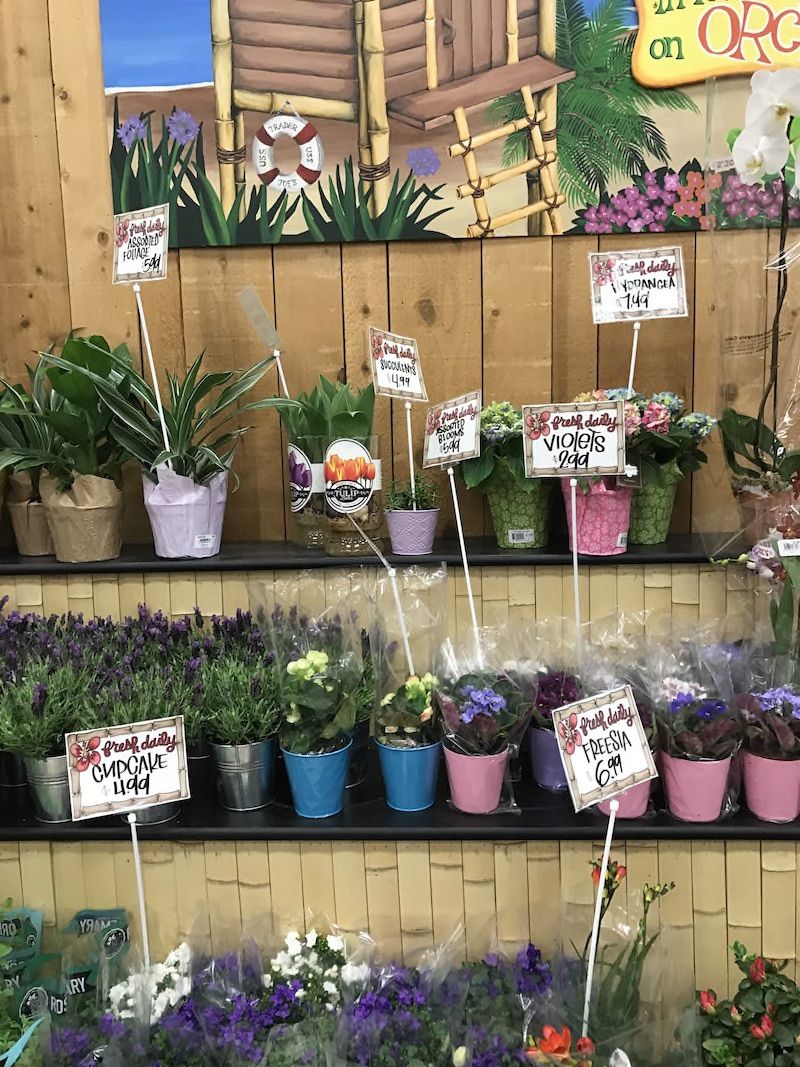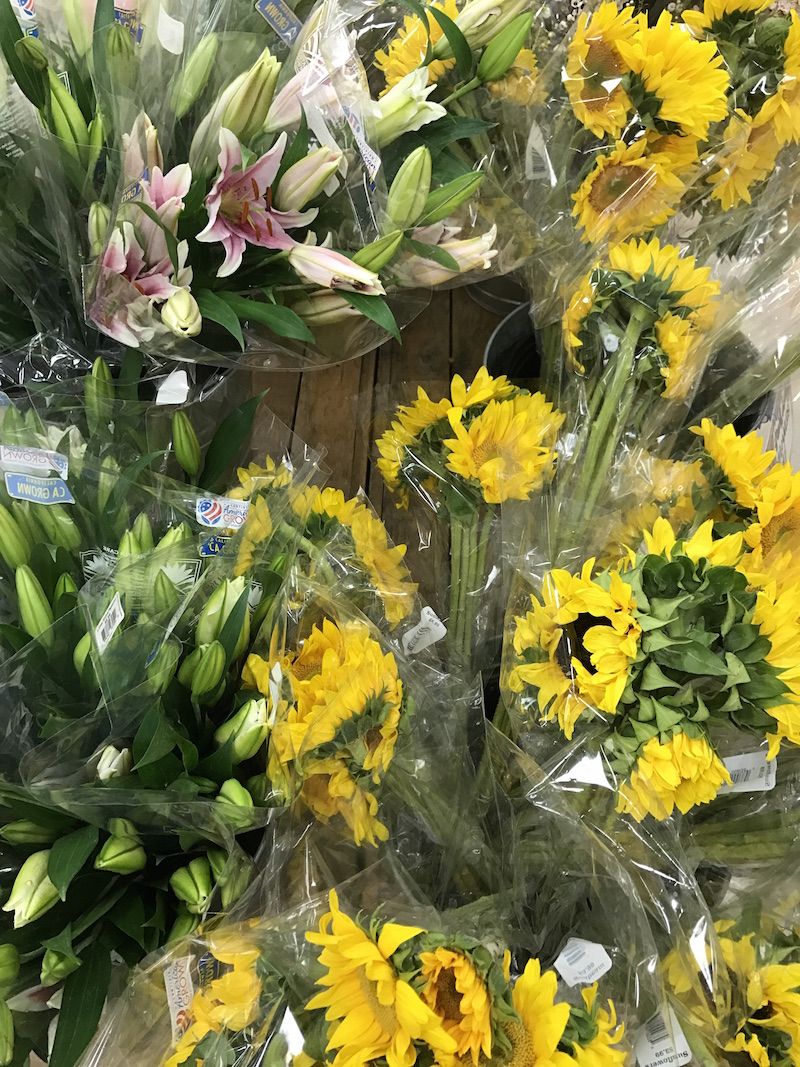 Cover photo by Africa Studios.
---