Millcreek is the Place to Be
This pleasant neighborhood lies between Holladay and Sugarhouse. There are charming older homes as well as new or refurbished homes that make each street a unique delight to drive through. Home of the Skyline High School (Go Eagles!), a beautiful view of the Mountains (with easy access to trails and campgrounds), and wonderful people! We seriously love this place!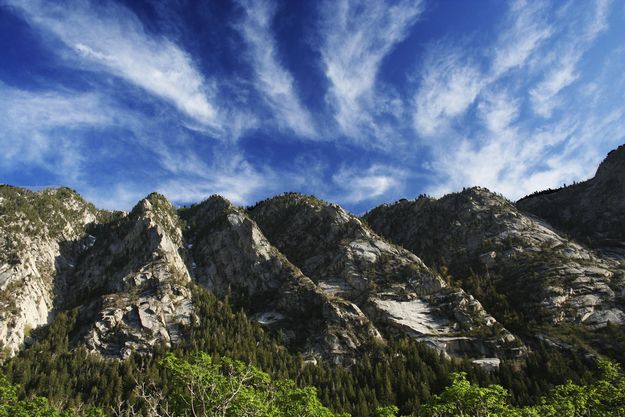 Photo found here.
One of the best parts of Millcreek is their Community Center, located at 2266 East and 3435 South on Evergreen Avenue. This building is pretty new, and very clean, with a modern design. With open windows and large amounts of space, it's the perfect place to clear your head. And there's so many ways to clear the head here! Starting with the library! It's very big, with a great selection of books ranging from teen mystery novels, to knitting guides, to fishing how to's! They even have a section with books that have ten plus copies, made for book clubs! The perfect way to do book club for free. The center also has a gym and classes for people of all skill levels and ages. Activities include basketball leagues, soccer camps, flag football, and even a skiing and snowboarding team! Some of the classes offered are aerobics, Pilates, and yoga. Get more information and class schedules here. There's also a place to relax and read your books, study, or catch up with friends. Cafe Evergreen! Open from 8am to 2pm they have some delicious options for you to enjoy. Hours of operation are Monday through Thursday 6am to 9pm, Friday 6am to 7pm, and Saturday 7am to 6pm. Closed Sunday.
Photos from Salt Lake Tribune
You don't want to miss out on Millcreek's Venture Out Festival! Every Friday in August will be an absolute party. There will be food and a mini market, games, live music, and more! There's something fun for everyone. Each night is finished off with an outdoor movie! Oh, and we can't forget the best part… it's free! Each event starts at 6pm, but is held at a different location around town.
-Friday, August 5 Mt Olympus Eastwood Elementary (3305 S. Wasatch Blvd, 84109 ) Enjoy live music from the Michelle Moonshine Trio, a circus show, a candy cannon, petting zoo and more! Enjoy "The Martian" at the end of the night.
-Friday August 12 Evergreen Park (2266 E. Evergreen Ave., 84109) Enjoy live music from Ryan Tilby, bike themed activities, a free bounce house, and even some animals available for adoption! Enjoy "Pee Wee's Big Adventure" at the end of the night.
-Friday August 19 Canyon Rim Park (3096 South Grace Street, 84109)Enjoy live music from The Fabulous Flynnstones, science and meteorology activities and presentations from the Clark Planetarium, a gymnastics obstacle course from the Gymnastic Training Center, and even some train rides! Enjoy "The Good Dinosaur" at the end of the night.
-Friday August 26 Big Cottonwood Regional Park (4300 S. 1300 E., 84109 ) Enjoy a performance from Happy Hula and a roasted pig dinner, in the Luau themed night! There will be Lei greeters and Polynesian and fire dancers! The delicious dinner will be an extra $5 per person or $20 for a family of 5. Enjoy "Zootopia" at the end of the night.
Another Millcreek favorite is the "Millcreek Cafe and Eggwork". Home of the best hash browns you'll ever enjoy, make sure you check this place out. The staff is always kind, helpful, and willing to help you decide what to order. Which is definitely the hardest part! We love their omelettes, they are extra crispy and satisfying. If you're looking to tackle your sweet tooth, get the french toast! It has a subtle ginger spice taste that makes them stick out from french toast you would order anywhere else. They also offer delicious gluten free options! Check it out at 3084 East and 3300 South.
We love walking off our full bellies from breakfast at the MillCreek Canyon Trail! Although this hike is friendly for all ages, it is pretty steep. That makes it the perfect workout, and you know the view will be amazing! Many hikers bring dogs, and are happy to strike friendly conversation while looking over the valley. Get here by taking exit 4 from I-215, head north on Wasatch Blvd until you hit 3800 South. Turn east until you come up to the trail. There is a small fee, but we promise it's worth it!
Photo found here
If your furry friend wants to socialize, we highly recommend you check out Tanner Park! This open leash dog park is one of the best in the state. This park is full of trails and gullies, perfect for your dog to socialize and get some exercise. There is a bit of a hike to get there, so you can get some exercise as well! Since this is not an official dog park, there are no public bathrooms or watering services, so come prepared. It's located at 2740 South and 2700 East.
Can you see why we love Millcreek so much?