Liberty Park - The Land of Leisure
Formally known as Mill Farm, Forest Park, or Locust Patch, Liberty Park has been around for quite a while. 1881 to be exact! We're sure glad we don't call it Locust Patch anymore, because it's now home to an enormous and beautiful park and tons of outdoor events. (historical info found via Deseret News)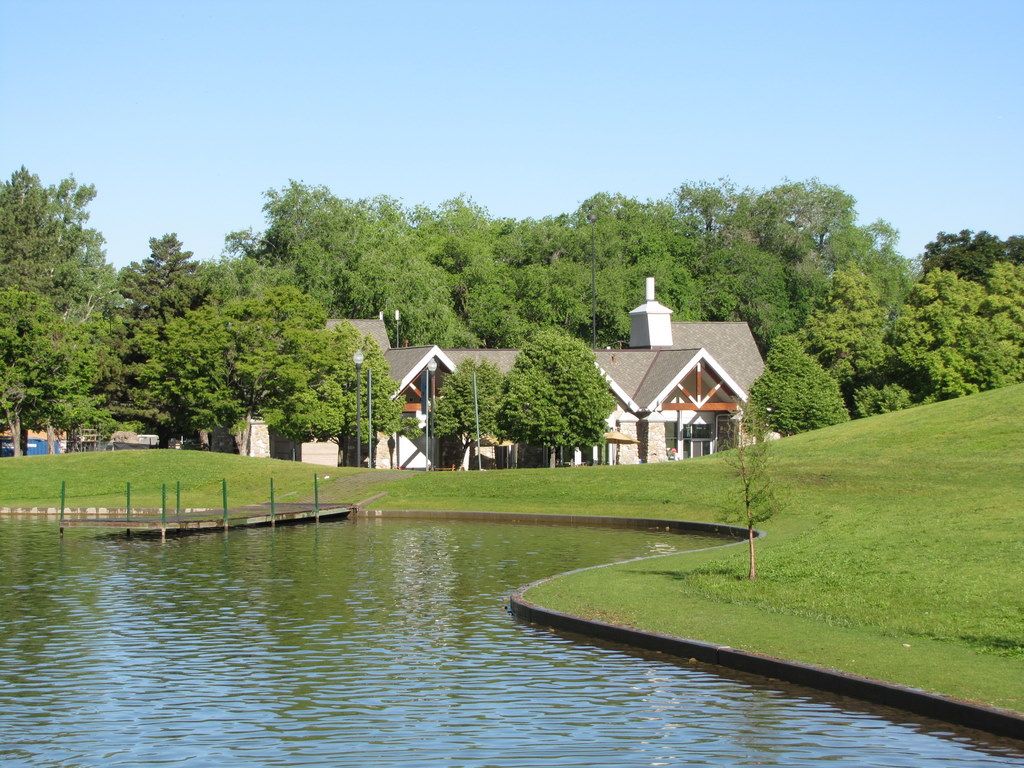 Let's start with that park of theirs! Located at 600 E 900 S, Liberty Park is 80 acres of pure fun! Full of spacious fields of grass, giant trees providing shade to all, beautiful ponds, and paths begging to be ran on. If you're the sporty type you can enjoy tennis and volleyball courts, rowing, and there's even a swimming pool! Not to mention some awesome playgrounds and a splash pad to cool off with, when shade isn't enough. It's hard to know where to start, right?! Here's a map of the park amenities to guide you.
We haven't even told you the best of the park yet… The rides! Yes, save yourself a trip to the amusement park because Liberty Park has got you covered with rides like a ferris wheel, merry-go-round and more!
The middle of the park is another place to check out if you want a fun way to cool off… The Seven Canyons Fountain! It's a rocky, river-like play area perfect for playing and the best way to keep from melting.
Not in the mood to play? If your brain wants in on the fun, check out the Chase Home of Utah Folk Arts located in Liberty Park. This is the only place in the United States that's dedicated to folk art exclusive to the state of Utah. Learn about Utah's Heritage by viewing artists from a wide variety of artists in Utah communities. The building itself was built 150 years ago! Enjoy beautiful and meaningful art from the Native Americans such as the Goshute, Navajo, Paiute, Shoshone, and Ute tribes. Drool over their incredible handmade woven products, beads, rugs, and more. Enjoy the Ethnic Folk Art Gallery to see art done by Japanese, Chinese, and Polynesian artists. Expect to admire stunning origami, paper cuts, and quilts done by amazing artists of these cultures. And don't leave without gazing at the stone carvings, horseshoes, saddles, and other cowboy gears at the Occupational Folk Arts Gallery. These artists have learned skills that have been passed down by generations. Keep your eye out for workshops and temporary exhibits here!
Don't leave the park just yet, because you can still visit Tracy Aviary! Admire the beautiful birds in the park at approximately 589 East and 1300 South. The Pelican Pond is full of beautiful American White Pelicans that you can even feed. 12% of birds are endangered. Learn how you can help species like Kea, Northern Helmeted Curassow, and Reeves's Pheasant. Admire the North American Eagles, Sandhill Cranes, and even Chilean Flamingoes! Admissions are $9.95 for adults, $7.95 for students and military with ID, $7.95 for seniors, $5.95 for children, free for toddlers. For an extra fee you can pay to do things such as feeding the flamingoes, experience behind the scenes photography, and even an activity called "Paint with Picasso". Picasso is a blue and gold macaw that will "paint" with the colors you choose! They also offer Tai Chi Yoga for the 55 and over community at 8:15am every Monday and Wednesday, for only $5! Learn more about the Aviary here, and follow them on Facebook here!
If you're looking for some Friday night fun in the Liberty Park neighborhood, check out The Bayou. A fun, happening, bar and eatery that serves delicious Cajun food and and has a huge beer selection. Bartenders are very knowledgable about the selection and are happy to give you recommendations. You do have to be 21 and older to enter, but don't come just for the beer! Some of their popular menu items include sweet potato fries, blackened catfish, and ahi tuna tacos! Yum! Check out their blog for information on specialty beers and the restaurants meal specials as well. There's nothing like going behind the scenes!
As you can see, the Liberty Park neighborhood is a fun place to be! There's something for everybody.
Search Homes For Sale in the Liberty Park Area
---
[search:https://saltlakelifestyle.com/search/postal:84115]