Last Minute Summer Camp Cram Session
Natural History Museum of Utah
The summer months at NHMU are busy with kids of all ages taking advantage of the wealth of knowledge available at the museum. Half day options for the younger campers and full day options are available for the older kiddos. Each week covers another topic and several weeks are partner camps with Red Butte Garden next door. Little scientists will be thrilled to spend their summer next to fossils and minerals. See the weeks still available according to age groups HERE.
IJ & Jeanné Wagner Jewish Community Center
If you have real little ones, Camp K'Ton Ton is one of the few options for the 2-5 age group. Their focus is on providing a nurturing environment for the littlest members of your family. They also have full day camps for older kids in their Bernie Camp. The JCC has one of the best pools and prime location for your summer adventures. You must become a member to take advantage of these great programs so click the links above for more information.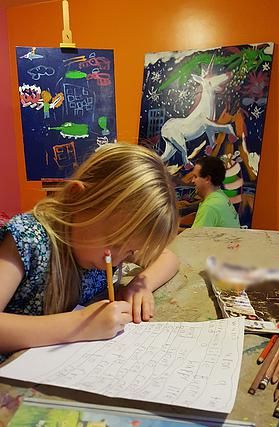 Arte Primero
Are your kids needing some more artistic ventures this summer? Maybe you want them to learn a bit of Spanish? Do they love going to Seven Peaks? If you answered yes to any or all of these questions, then Arte Primero is for you. Marla and her dedicated staff have been running a bilingual art camp for several years in Sugarhouse and my girls have personally enjoyed their summers because of this program. They spend several afternoons at Seven Peaks during the week, so make sure you stock up on sunscreen! More information and registration form can be found HERE.
University of Utah
Shorter students gather at the U during the summer for many camp opportunities. The Entertainment Arts & Engineering Dept offers camps specializing in game design and programing for your teen interested in creating the next hot video game. GREAT is a program offered through the Engineering Dept that focuses on robotics. Do you have a future architect? The College of Architecture & Planning offers camps for future designers. Tanner Dance offers programs ranging from pre-school through high school and even has camps for dancers with disabilities. Young musicians can keep their skills through the summer with camps offered through the School of Music. Technically the SLC Sports Complex isn't part of the U, but they offer a camp as well and registration info can be found HERE.