How to Eat Like a New Yorker in Salt Lake City
If you ever read the articles I write over here, you know I love to get out of the house and explore! My ending destination always involves food. I love trying new restaurants, and consider myself a top notch "foodie". I took a trip to New York City a couple weeks ago, with intentions of eating my heart out. The goal? End everyday so full of delicious food I would need to lay down in the taxi ride home.
Good news friends, my mission was definitely accomplished! I came back to Utah with an empty wallet and a full heart. And an even fuller stomach! But as delicious as the food in New York was, my taste buds are pretty loyal to the 801. I decided to start a new food quest, and decided to find every restaurant in Salt Lake City that's as good as the food in New York City.
My favorite kind of research!
1. Hot Dogs
When I think of New York City grubs I immediately picture Liz Lemon from 30 Rock buying every single hot dog from a street vendor and passing glorious hot dogs out to everyone she passes. Sometimes nothing is more exciting than a fresh hot dog, right Liz?
Although a hot dog bought in the city might be simple, dare I say basic? But they sure don't taste boring! New Yorkers keep it cool by keeping toppings to a minimum. I love a good dog with a dash of mustard, but I also love an adventurous hot dog. This is why I absolutely loved pigging out at the Dog Haus! Located in Sandy, at 10261 State St, 84070. A German themed hot dog joint, they offer an exciting take on the classic hot dog, and have sausage options as well. They use sweet toasted Hawaiian bread as buns, and offer fresh and out of the blue toppings. Fries, tater tots, or onion rings are practically mandatory to get on the side. They even have burgers, sliders and corn dogs! My personal favorite? The "Downtown Dog", a hot dog wrapped in smoked bacon and topped with caramelized onions, pickled peppers, mayo, mustard, and ketchup. I always complete my order with a side of sweet potato fries. Their shakes look pretty good too…
Check 'em out Sunday through Thursday 11am until 9pm and Friday and Saturday 11am until 10pm.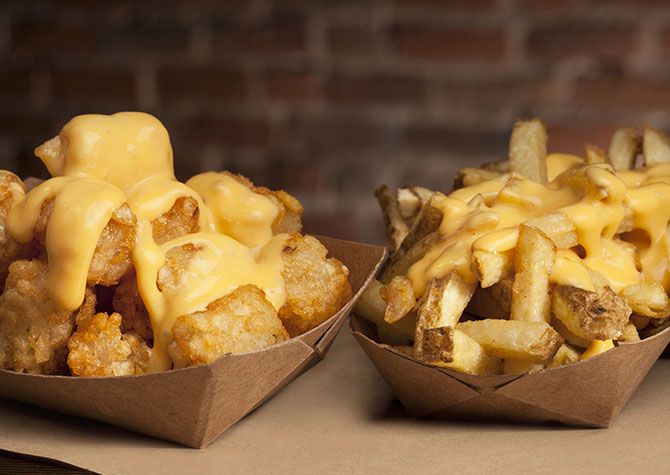 2. Pizza
Still craving something salty? Another New York City staple is Pizza, and you can find it on every street corner in the city, some corners host up to three. It's not a good time without pizza, is it? New York pizza is cheap, thin crusted, and delicious, covered in marvelous grease you do not want to dab off with your napkin. It's not hard to find a good pizza place in the big apple, but not every pizza joint outside of NYC is a guarantee. Cheap pizza here could mean stale crust and rubber cheese. You might pay $15 for a gourmet pizza and it will taste extremely mediocre. You know what I'm talking about? A slice of pizza from our very own Pie Hole is the easiest way to get New York style pizza without a plane ticket and a suitcase.
The Pie Hole is a favorite for young people. Open from 11am until 2am Sunday through Thursday and open until 3am on Friday and Saturday… they're practically begging you to hang out their with your crew on the weekend. Every slice is under $3, and has all the New York qualities. It tastes great, is cheap, and available at almost time! If you need pizza past 3am, we think you should go to bed earlier! Only joking, but you have to admit the Pie Holes hours are awesome for young people, and also pizza people who get the late night munchies. They have a vegan option everyday, too! My favorite slice? The potato bacon. Yum! Check them on on Monday for their special, $5 for two slices and a fountain drink!
They're located at 344 S State Street.
3. Bagels
My favorite thing to eat in New York City is a bagel. But it's never just a bagel.... Whether you get it from a coffee shop or a street cart, it can sandwich a thick schemer of cream cheese or a breakfast masterpiece like eggs, cheese, meat, and avocado. I still daydream when I relive opening my fresh bagel breakfast sandwich as I stood in Central Park. The cheese melted and steam rose from the sausage and eggs as I drooled. I am not always willing to pay extra for avocado, but I'm so glad I did that day. The perfect addition to my dreamy breakfast. The owners are from New Jersey, so you can trust these East Coasters.
Can you see why I would want to relive this? Well good news kids, I was able to at Salt Lake City's, "The Bagel Project". Bagels are freshly made, full of moisture, flavor and made to be demolished by your mouth. They serve a "Lox and Loaded" bagel, which is what the trendy city folk order at brunch. Picture a plain bagel with cream cheese, salmons, capers, and lemon. Or enjoy a more typical breakfast sandwich with eggs and cheese. They even serve Publik coffee, one of our favorite local brews! Open Monday through Friday 6:30am until 2pm, and Saturday and Sunday 7:30am until 2pm.
Keep your eye out for another New York staple they offer, the black and white cookie!
4. Donuts
We're excited to talk about this place for two reasons. The first reason is my passion for dessert, and it's importance. The second reason I'm excited is because I have a feeling you haven't been here before. Fresh Donuts and Deli may not look like much from the outside, but they have given me the best donuts I have ever had in my life. You heard me, better than the one I had in New York City! Their glazed donuts are not too airy, their cake donuts not too dry. Their fritters? A perfect sugary, crispy outside, and a soft doughy paradise on the inside… Now I know I said not a lot of people know about this place, but that doesn't mean it's not crowded. Devoted dough lovers return again and again for their favorite donuts, don't let the line scare you! They're located at 2699 State Street, open Monday through Saturday 5am until 5pm and closed Sunday.
Although New York City is home to hundred of amazing restaurants, find peace knowing you can get amazing food in your own area code! Utah, you're keeping up with the food game really well.
Keep it up!
With love, my stomach and my taste buds.