Get Lost in Time at the Broadway Centre Cinema
As much as we wish we could see "Hamilton" the musical live in theaters, this is not what we're talking about.
Broadway Centre Cinemas is located at 111 E Broadway. It is a charming little movie theater perfect for escaping for a few hours. I hesitate sharing this gem with you because I've been lucky enough to avoid lines and crowds every single time I have visited. But it's my duty to share the best parts of Salt Lake with you, and I always make sure my job is done right.
photo from yelp
Thanks to the Salt Lake Film Society, the theater has access to the newest and most successful independent films in the business. When the Sundance Film Festival is going on and you can't make it up to Park City, you can even see some of the films here instead! You might not run into any B-list actors, but you can avoid the hectic crowds at the film festival.
The lobby is newly remodeled, and has a great atmosphere. It is chic and decorated modernly, but has cool movie signs and posters that add a vintage flair. The friendly employees will gladly give you a movie recommendation and a smile as you enter. I always ask a worker what I should see during my next visit and they are always happy to talk movies with me.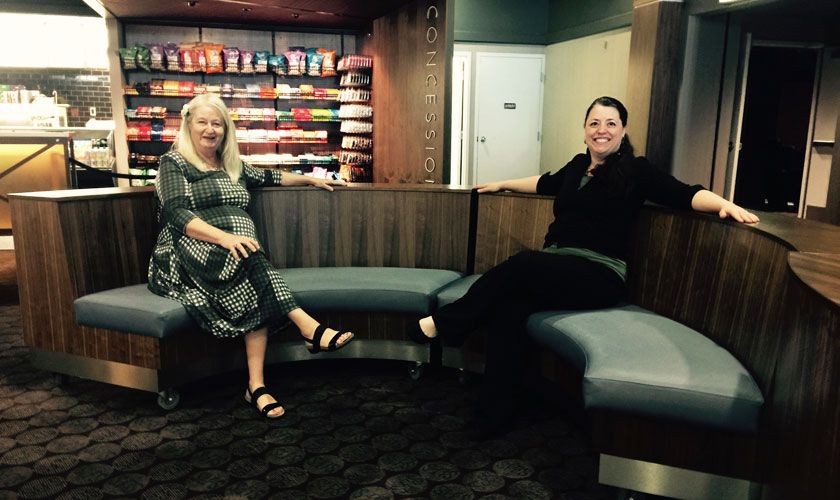 photo from SLFS
I'm sure you've been wondering why I haven't talked about the grub yet. The theaters refreshments are arguably the best part. (Okay, well besides the actual films) Their snack selection is trendy, eclectic, and refreshing. They have options like edamame, veggie dogs, chocolate covered nuts, ritter chocolate and gourmet popcorn. They also have your classic movie theater popcorn, available to drench in butter and salt. You can totally top that off with a large coca-cola, calories don't count on the weekend, my friends!
I wouldn't leave without giving you guys a killer movie recommendation. Last week my family checked out Sing Street, and absolutely loved it! The movie is about a school boy in Ireland who starts a band to impress an older girl. It takes place in 80's when Ireland's economy was failing, and there was no economic opportunity for the Irish people. The young boy has fighting parents, and attends a horrific church school with abusive leaders. In order to keep spirits up and impress the girl, he makes music videos and writes songs with his band mates. Here's the trailer:
The music is inspired by classic 80's bands like The Cure, Duran Duran, and Hall and Oates. You will not be able to sit still in your seat you'll want to jam so hard! Here's my favorite song, "Drive it Like you Stole It"
There's parking in the structure next door, and the Broadway Centre Cinemas gladly validates with ticket purchase. They're open everyday 12:30pm until 10pm. If you've got room in your stomach for dinner you can easily walk over to Spitz or Copper Common.
Get lost in time with a movie and snack in a unique atmosphere at the Broadway Centre Cinemas!